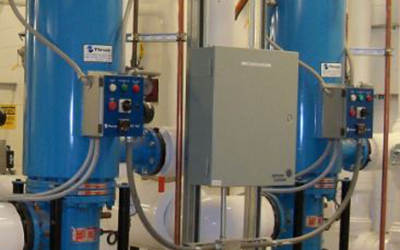 Our commercial customers include hospitals (OHSU Oregon Health & Science University, Providence Hospital), colleges (University of Oregon, University of Washington) military installations (McChord AFB, Fort Lewis, Naval Station Kitsap), as well as Amgen, Boeing, the Washington Athletic Club, and MacDonald Miller, Seattle Construction Division.
Commercial Products
Modine www.modine.com
Always Innovating, Always Improving
Modine Manufacturing Company has been leading the way in thermal management since 1916. We design, manufacture and test heat transfer products for a wide variety of applications and markets. We're at work in practically every corner of the world, delivering the solutions our customers need, where they need them.
Thrush Co. Inc. www.thrushco.com
Hydronic Specialties, Pumps, Hot Water Heaters, Pressure Boosters, Heat Exchangers
In 1923 Homer A. Thrush committed himself to developing superior hot water heating systems. The Thrush Water Circulator was first introduced to the growing hydronics industry in 1928. This innovation brought the advantages of hot water heat to virtually every home and business. Mr. Thrush pioneered many innovations that have contributed to the comfort and well-being of mankind. Established in 1997, Thrush Co. Inc., named after Homer A. Thrush in commemoration of his innovative spirit, has been recognized as a leading pioneer in the hydronics industry. Our worldwide network of representatives and distributors, as well as our in-house service department, are available to meet your needs and insure your satisfaction. When you need heating and cooling products, think Thrush.
Spence Engineering www.spenceengineering.com
Pressure and Temperature Regulators, Control Valves, Relief Valves, Strainers
Spence engineered steam specialty and fluid control products meet the changing needs of today's HVAC and industrial marketplaces. Emerson expands its steam product portfolio by adding industry-leading Spence steam regulators, control valves, safety relief valves, temperature regulators and other steam accessories and solutions.
Nicholson steam traps and condensate pumps are designed for industrial applications such as condensate systems, district heating, main steam systems, process control and process heating. Emerson expands its steam product portfolio by adding industry-leading Nicholson steam traps and other steam accessories and solutions.
Reco USA www.recousaheaters.com
Gas Hot Water Heaters, Pressure Vessels
Located on 15 acres in Cayce, South Carolina, our facilities feature 105,000 square feet under one roof. Our machinery includes the latest in welding, cutting, and forming equipment, and we offer engineering assistance using state-of-the-art PC based CAD Systems. This not only assures you quality engineering, but also results in faster turnaround. To complete your job to quality standards, we rely on a work force of 105 highly skilled professionals, including supervisors, professional engineers, draftsmen and shop inspectors.
Since 1958, Tunstall® Corporation has provided customers with outstanding, cost-effective solutions in an energy conscious world. With our reputation for quality, service and innovation, it's no surprise that we've built a group of loyal customers -- colleges, universities and state government institutions -- that consistently choose Tunstall for their steam heating requirements.
Miljoco Corporation www.miljoco.com
Temperature and Pressure Indicating Instruments
Miljoco Corporation is a leading international manufacturer of temperature and pressure indicating instruments used in the refrigeration, food service, commercial HVAC, and industrial processing industries.
Warren Controls www.warrencontrols.com
Dependable, Rugged, Precision Control Valves and Accessories
Warren Controls has been in the valve business for 50 years, serving a wide variety of commercial, industrial, military and OEM customers. Our strengths lie in our ability to ensure that we are meeting the needs of the application, providing personal service and flexibility to meet our customer's needs.
Warren offers four broad product lines for Building Automation Control Valves, Industrial Process Valves up to ANSI Class 300, Mechanical Level Controls for deaerators and boilers, and Military / Marine Valves to MIL specifications.
UO Group www.uo-group.com
Your Full Service Industrial, Energy, and Marine Contractor
We are a "Steam Solutions" Construction Company meeting the mills need to optimize energy cost and maximize steam usage. We accomplish this through steam joints, syphons, condensate return systems, and thermocompressors.
Micronics www.clamponflow.com
Clamp-on Ultrasonic Flow Meters, Heat Calculators and Thickness Gauges
Micronics has been manufacturing clamp-on ultrasonic flow meters, both fixed and portable, since 1985. In that time they have developed one of the most accurate and user friendly transit time flow meters on the market.
Laurence is a leading brand of fast-acting on-off control valves for process industries that are proven to perform in demanding, high temperature conditions.
Laurence www.lesliecontrols.com/
A premier manufacturer of Control Valves and Instrumentation
It has been one hundred years since Canadian born John Leslie advertised his first major product, a steam powered snowplow for railroad locomotives. Leslie's product lines have grown significantly over the last century and now include a wide variety of products to cover almost any need for power plants, processing and HVAC to Navy Ships.